OKCupid didn't really mess with you, so don't freak out
So everyone has been flipping out this month because all these online websites like Facebook(1) and OKCupid(2) have been experimenting on their users.  To be fair, Facebook actually manipulated your newsfeed to try and alter your mood. Facebook literally emotionally manipulated you with what you were viewing in your newsfeed.  As Chris Hayes pointed out, Facebook even did this for the purpose of their advertisers which helps them make money.  OKCupid did their experiments for the purpose of helping their users find looooove.
So here's what really happened.  First, OKCupid took profile photos off their profile pages.  Result:  Their entire website tanked.  Seriously. Check this out: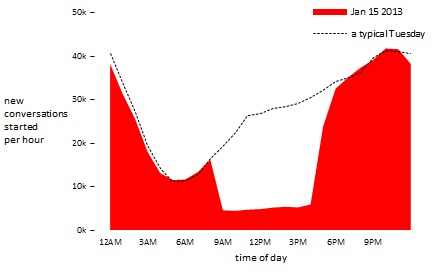 OUCH!!
The other experiment they did was about the match percentage based on the questions OKCupid asks you. So, let's say Mindy likes NASCAR and TruckNuts – she gets 100% match with Darrell who LOVES TruckNuts and NASCAR but only 50% Match with his other brother Darrell who loves Monster Trucks and NASCAR but didn't mention his affinity for TruckNuts because he didn't want to scare the ladies off.
What OKCupid did was switch the percentages around. Mindy got 100% on someone she really only had about a 50% chance or 30% chance of liking. And you know what they found???? The percentages didn't really matter. People still messaged people based on if they were hot or not.


And this one: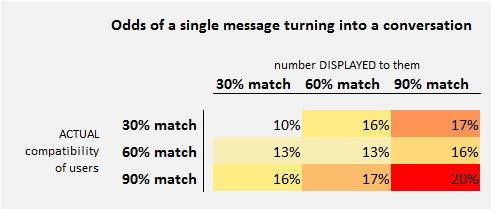 Via OK Cupid:
"As you can see, the ideal situation is the lower right: to both be told you're a good match, and at the same time actually be one. OkCupid definitely works, but that's not the whole story. And if you have to choose only one or the other, the mere myth of compatibility works just as well as the truth."
Footnote 1: Facebook Study.
Footnote 2: OKCupid Study.