This Little Guy's Name is Hollis and He Wants to be a Policeman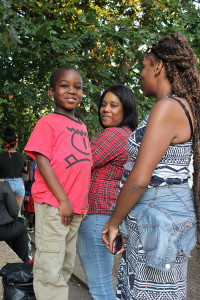 Tonight, I joined with hundreds of my fellow Washington, DC activists, in attending the National Moment of Silence (for Michael Brown).  I made my way through the crowd annoying everyone with my "excuse me" and "pardon" as I photographed every sign and as many determined activists as I could.
Toward the end, I walked by a family and overheard a tiny voice ask "Mommy am I going to get shot by the police?"
Everyone this is Hollis (who I photographed with Mom's permission).  Hollis is in the first grade.  When he grows up he wants to be a policeman, but he doesn't want to fight in the war because his grandpa fought in the war. And he doesn't want to be a fireman because he doesn't want to get burned.
How Hollis's mom didn't cry at his innocent question I'll never know, because, truthfully, I almost did.
I have tried to stay level headed during the last several days and come to these rallies with an objective perspective only seeing the scene to capture and report it. But these moments bring down my wall of emotionless detachment. Sometimes there are no words, just sweet, innocent, smiling faces, and moms who live in fear. In that moment I saw both, and my heart wept.